About company
Lyapko medical production company has been specializing in production of unique goods for more than 15 years. These goods are Lyapko multi-neddle applicators which promote health resumption. The main element of interaction of a human body with the environment is skin integument. There are a lot of nerve-endings in it. Lyapko applicators awaken self-protection mechanisms of a human body, promote metabolism and provide immune system reinforcement by acting on nerve-endings.
Products of Lyapko MPC is a result of combination of nonconventional medicine of the East and modern technologies. They are successfully applied in many clinics, hospitals, medical institutions, scientific research institutes of reflexotherapy in Ukraine.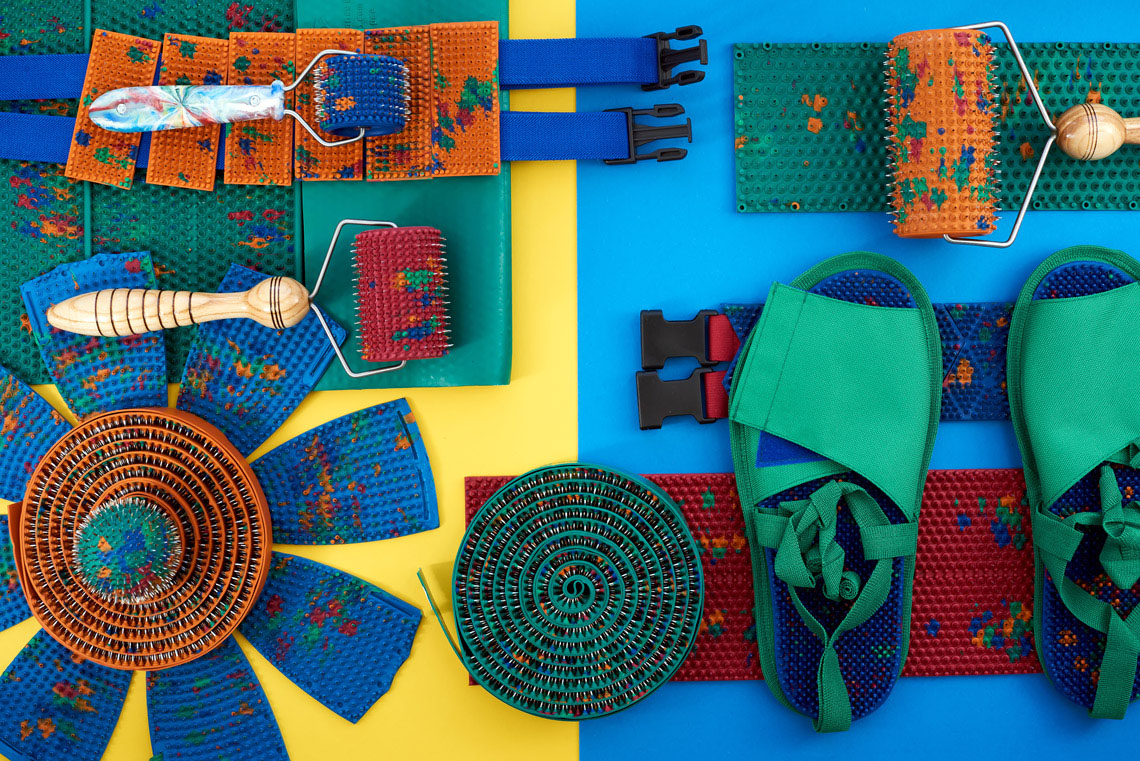 USE OF LYAPKO MULTI-NEEDLE APPLICATORS IS A NEW TECHNIQUE WHICH ALLOWS
to increase working capacity and vitality, normalizes sleep and metabolism;
to assist prevention and treatment of gastroenteric tract illnesses as well as cardiovascular, respiratory and nervous system diseases;
to eliminate sexual disorders, normalize sexual function of both men and women; when an applicator helps to eliminate inflammation and ovarian – menstrual cycle disorders, when it is used for gynaecological disorders treatment;
to reduce time of complete recovery after craniocerebral injury, fractures, operations, strokes;
to normalize hormonal balance, metabolism at endocrine diseases;
it doubles or triples efficiency of such methods as massage, ear and general acupuncture, manual and laser therapy, microwave resonant therapy (both when used combined and preliminarily).
Practically without having contraindications and negative side effects, applicators can be at home since they are very simple in use. Lyapko applicators have no analogs in the world as there are no equal by efficiency and received results devices.
All products are recommended by Ministry of Health of Ukraine for use in medical practice. They are protected by Ukrainian and international patents, certified in accordance with the international quality system.
PRODUCTS OF LYAPKO MPC ARE AWARDED WITH NUMEROUS DIPLOMAS AND CERTIFICATES
Applicators are recognized as one of hundred best goods in Ukraine
Lyapko medico-production company, as well as its product, is in a stage of dynamic development and continuous improvement. Improvement of production technologies, studying of scientific achievements, expansion of the range of applicators allow to take the leader's position in the field of improvement of the person at the expense of the hidden reserves of an organism with use of natural inner resources.
We appreciate health of each client therefore individual approach, professionalism of personnel and uniqueness of a product is the key to success in treatment against many diseases.
The global mission of Lyapko MPC is natural improvement of all people on the planet. And the company, headed by its leader Nikolay Grigoryevich Lyapko has everything to reach this aim.
THE PURPOSE OF THE COMPANY IS TO MAKE EACH CLIENT HAPPY AND TO GIVE HIM THE MOST VALUABLE THAT CAN ONLY BE – HEALTH
Lyapko applicators are among the top 100 most expensive inventions in Ukraine.