Download `Methodological recommendations` (Eng)
How does Lyapko applicator work? How should you use the applicator? All answers to these questions will be found in our article!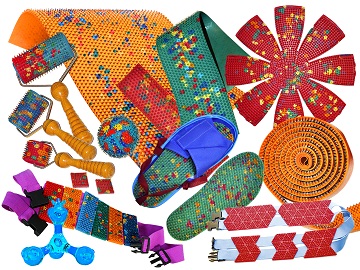 Lyapko application device (further Lyapko applicator)
Applicators are made in form of elastic rubber plates and rollers. They are produced of natural rubber for medical purposes. Needles of metals necessary for the body metals (copper, iron, zinc, nickel, silver) are fixed-in the rubber base. Base metals of the needles basis are copper (brass) and iron needles, all or part of which are coated with other metal (only the tip of the needle is free). Rubber limiters (columns) are located on perimeter of the applicator to provide pleasant feeling, protection of skin against excessive pressure and damage.
HOW TO WORK WITH THE APPLICATOR?
Flat static applicators and applicator rollers are used to influence the basic, additional and ancillary areas. Rollers are also used to affect areas along the spine (sympathetic points location zones) during reflex diagnosis. Both by means of an applicator, and by means of a roller it is possible to kill pain for short term, to restore working capacity, to transfer a nervous system from a stressful state to normal, to gain therapeutic effect at various pathological states.
In 90% of cases it is necessary to influence the area which disturbs (pain zone), and to increase efficiency of treatment, one should act on additional and supplementary zones. It is also necessary to include the main zone (area of a backbone) in the general compounding. Additional and auxiliary zones need to be used in that case when for a number of reasons it is impossible to influence the main zone. Additional and secondary zones can be in areas opposite to the core zone. For potentiation (strengthening) of medical effect it is expedient to include symmetric zones of the healthy area in an influence compounding. In order to achieve optimal therapeutic effect it is necessary:
To choose the right zone, modes and methods of influence.
To carry out the correct laying on applicators.
The main condition for a correct placement is homogenous distribution of body over the entire applicator surface. Never place the applicator on a completely flat surface. To place put the applicators properly, one need simulate the most accurately the spine curves in the cervical and lumbar spine using the pillows and folded towel rolls.
During the first five minutes of «dialogue» with an applicator relatively uncomfortable stinging sensation are transformed into a comfortable feeling of a powerful heat, pleasant «vibration», tingling, subsequently it may be a feeling of drowsiness, general
relaxation, turning into a healthy restful sleep.
REMEMBER!
If there is discomfort for 10-15 minutes, remove the applicators and use only after 5-10 hours or the next day, capturing a smaller area. The causes of uncomfortable sensations may be incorrect use of applicators, i.e. uneven load on the needle and slide of applicators accompanied by skin scarring. To eliminate these phenomena, one should rise above the applicator, lie down again and putt a soft roller under the knees.
DURATION OF EXPOSURE
Exposure time with applicators depends on symptoms and the particular task that you set for yourself. In chronic diseases, increased blood pressure, irritability, agitation, insomnia it is recommended to use applicators in the afternoon or before bedtime. Duration of exposure – for the roll – 10 - 15 minutes, for flat applicator – 15-30 minutes.
At intense pain, hypotension, drowsiness, weakness, reduced sensitivity and efficiency, as well as in immune-compromised patients and the elderly people, the impact is effectively carried out in the morning and the first half of the day. Duration of treatment is for an applicator – 7-10 minutes, for roll – 5-7 minutes. The course of treatment is 1-2 weeks. The treatment can be given again in 2-4 weeks.
There is a positive long-term practical experience for several consecutive months of daily use of applicators. There was a sustained improvement of health, removal of chronicpain, increase vitality and work ability.
RECOMMENDATIONS FOR USE OF LYAPKO APPLICATORS